The posse will represent to the community the Sheriff Department's desire to be approachable, caring and involved.
The Kern County Sheriff's Mounted Posse was started in 1939 and is the oldest existing working posse in California. The Posse has approximately 45 members and participates in parades and rodeos throughout California. Leading the Posse is Kern County Sheriff Donny Youngblood; along with our elected Command members.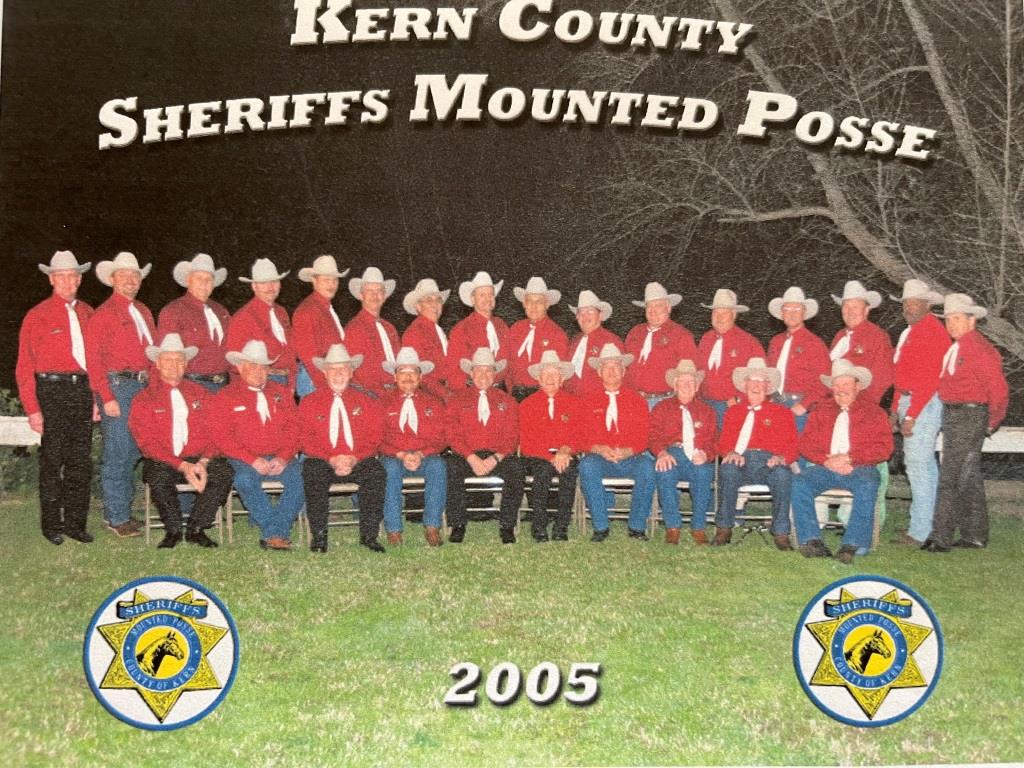 Our organization stands tall and rides proud as we commit to raising funds to assist well deserved organizations many of which focus on the area of child welfare. The Posse conducts fund raising events throughout the year to benefit physically and mentally challenged children in Kern County. This includes a "Kid's Day at the Kern County Fair for 3,000 children. The Posse sponsors and feeds the children for the day.
Left: Kids Day at the Fair with Frank Maitia Sr., Bill Caughron, Ray Parker, Max Stubbs, Jim Addy, Stu Stuart, Al Salyer, Dave Snedden, Bill Thompson, Joe Ayraud, Bruce Marchbanks, Pete Paynter, Charlie Elwood, Earnie Fergerson. Center: Kids Day at the Fair 1969 with Ray Parker, Jim Addy a Bndruce Marchbanks. Right: Jordan Hot Springs in the High Sierras 1968 with Charlie Dodge and Bruce Marchbanks.
The Sheriff's Posse is best known for its high profile in parades and rodeos, but members perform many fundraisers throughout the year as well as devoting hands on volunteer hours to help enrich the lives of many. Donations include: handicapped bicycles, playground equipment, to children and schools in need throughout Kern County. Church Camps are sponsored for troubled kids in order to get them back on track and to have productive lives.
Left: First Spring Ride 1947. Center: Roads Inn By Johnson Dale 1958 with Keith Manley, Cliff Neeley, Bruch Marchbanks, Bill Houck, Joe Eyraud. Right: Posse Ride/Campout 1958
The Kern County Sheriff's Mounted Posse is an organization of volunteers who provide support to Kern County and the State of California through example, camaraderie and good will; and who represent the Sheriff in providing community service, with the primary emphasis on the use of horses.
Left: Roads inn by Johnsondale 1958 with Keith Manley, Cliff Neeley, Bruce Marchbanks, Bill Houck, Joe Eyraud. Center: Annual ride at Mineral King 1958 with Tom Mix, Gordon Rush, Joe Eyraud. Right: Posse Ride 1958 Mineral King with Max Stubbs, Elmer Saddiucci, Charlie Henning, Wilber Wyatt, Bob Buckley, Doc Mcnaul.
Posse members are uniformed representatives of the Sheriff, but are not Law Enforcement personnel and do not enforce laws. The Posse has male and female members and is always interested in recruiting new members that are willing to be active within the group. The Kern County Mounted Sheriff's Posse continues the grand tradition of the old west by providing volunteer services to the Sheriff and the community.
While the Sheriff's Department does provide some support to the Posse, most Posse expenses are covered by members, donations and fund-raising events.