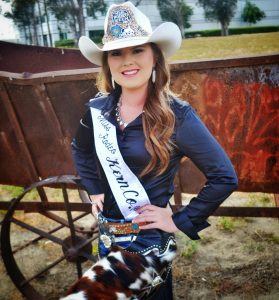 2017 Miss Rodeo Kern County Queen Amanda Hop
Amanda Hop is honored to be able to reign over the entire Kern County for the upcoming year. Amanda was crowned on May 6th among family, friends, and rodeo fans.  She is so ecstatic to be a part of such a great rodeo this year.
She is 21 years old a student at Mt. San Antonio College where she plans to earn her degree in Horse Ranch Management and then transfer to Cal Poly Pomona where she will pursue a degree in the field of agriculture. At one time she competed on the Mt Sac Show Team through the Intercollegiate Horse Show Association where her love for showing started. And also competed in not only Jr. Rodeo but also High School rodeo in district 8 where rodeo is striving through the youth of our surrounding areas. Amanda competed in goat tying and breakaway roping where she earned the title of 2012 TMRA breakaway roping champion. When not at school or working she can be found spending time with her family and traveling. She is very involved in the sport of rodeo and enjoys competing in team roping and giving lessons to aspiring rodeo queens.
Following in her sisters' footsteps who also competed in Rodeo Queen Pageants, she began competing at the young age of 5. Although it didn't come easy, Amanda lost the first few years but through her hard work and perseverance she won her first title at the age of 10 and she's  been hooked ever since! Her family has always been involved in rodeo and she is thankful to have been raised in such a great community. She acknowledges that Rodeo Queens are first cowgirls, and athletes in their own right, having the knowledge of their sport and the gift of communication to educate the public and raise the awareness level about professional rodeo.
Amanda has held several titles throughout the surrounding areas and has aspirations of becoming Miss Rodeo America. Amanda will be competing at the Miss Rodeo California Pageant this October held in Lancaster. As a cowgirl her love for rodeo lives deep within who she is, and she embraces the western way of life, its family entertainment, and friendly competition that reflects the heritage and lifestyle that our state was founded on.
She can still remember the immense joy that filled her body when she was crowned Miss Rodeo Kern County and can't wait to see what this year has in store.
2017 Miss Rodeo Kern County Junior Queen Sheridan Knight
Sheridan is the 15 year old daughter of John and Stacy Knight who was born and raised in Bakersfield, Ca. Sheridan will be attending Frontier High School in the fall as a sophomore. Sheridan began rodeo queening when she won her first queen title in 2014 as Miss Stampede Days Rodeo Princess winning this sparked a fire in her heart leading her to run for more titles and   winning 2015 Little Miss Rodeo Tehachapi, 2017 Miss Rodeo Kern County Jr Queen, and 2017 Miss CHSRA District 6. Winning these titles have allowed Sheridan to expand her comfort zone and begin High School rodeoing for CHSRA District 6 as well as junior rodeoing for CJCA and TMRA. Sheridan would like to thank her family for helping her pursue her dreams. She says nothing would be possible without their love and support.
" Growth is never by mere chance; it is the result of forces working together" – James Cash Penny.  I hope that my fellow queens can be the forces that help the western way of life grow and impact others like it has done to me.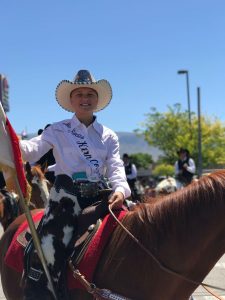 2017 Miss Rodeo Kern County Princess Sami Hobson
Sami is the 11 year old daughter of Daron and Brenda Hobson. She is a 6th grader at Olive Drive Elementary and is looking forward to attending Norris Middle School in the fall. Sami loves school and playing the flute in the school band, she wants to be a teacher when she grows up. Sami loves spending time with her family, going to the beach, and for course anything that has to do with horses especially rodeos. Sami is looking forward to her year as Miss Rodeo Kern County Princess and she would like to thank her family and friends for all their love and support.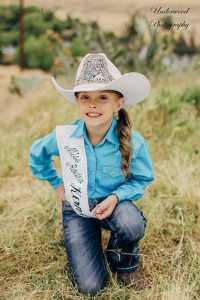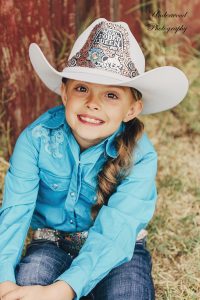 2017 Miss Rodeo Kern County Junior Princess Emma Francom
Hello, my name is Emma Francom. I am an 8 year old Bakersfield native and am the youngest in a family of five. My dad Brion, my mom Brenda, and my siblings Samantha and Tyler are all important to me, as are my many cousins here in Bakersfield. The girls in my family are country girls who love Rodeo, country music and riding, and the boys are slowly coming around! Currently I am in the second grade at Norris Elementary.
2017 Junior Princess Emma Francom
When school is out I love to spend time with all types of animals, and it makes me sad that I am allergic to some, cats the worst of all!
Luckily horses are not on my allergy list and I spend lots of time with my best friend Reiner, an 18 year old Bay Quarter Horse Gelding. I have two dogs, which I love to play with, take care of and help train. Max is an Australian shepherd, border collie mix and Maggie is a cocker spaniel. I also am caring for a Mini Rex bunny named Carmel that I hope to show in 4H.
I am excited to represent Kern County with the other girls in the court as Miss Rodeo Kern County Junior Princess 2017 and am looking forward to the upcoming year of learning and creating new friendships within rodeo and the community.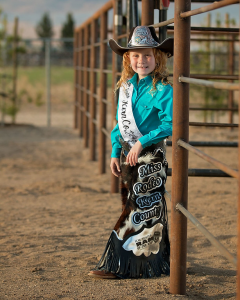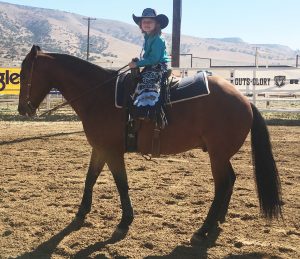 2017 Miss Rodeo Kern County Tiny Princess Raegan Rockey
Hello, my name is Raegan Rockey.  I am so excited to be Miss Rodeo Kern County Tiny Princess.  I am six years old and will be starting first grade at Gregg Anderson Academy in the fall.  My family and I live on a small ranch in Antelope Acres, California.  On our ranch, I help take care of our livestock.  We have horses, steers, pigs, sheep, goats, chickens, dogs and one cat.
2017 Tiny Princess Raegan Rockey
I am a 4H mini member, currently working on cooking and sewing projects for the county fair.
This year I moved up from my pony to a full size horse.  His name is Hot Rod.  He is the best horse in the world! I love to ride him and to give him cookies! I take care of him and he takes care of me.  I am very excited to be Miss Rodeo Kern County Tiny Princess and to represent the western way of life with my new friends this year!